DermaSweep MD MicroFusion Treatment

MD technology takes MicroResurfacing to the next level using patented, customizable treatment techniques.
Exfoliation: Proprietary bristle treatment tips gently lift away the top layer of the skin, sweeping away the appearance of skin imperfections, promoting collagen, and improving radiance, tone and texture.
Circulation: enhances lymph drainage, and increases oxygenation, while. infusing key nutrients to help nourish the cells, improving overall skin health and boosting collagen.
Infusion: DermaSweep's MD infusion solutions are formulated with cutting-edge ingredients such as Growth Factors, Peptides, Vitamin C, etc., targeted specifically to create visible results with just one treatment.
Medical Grade MicroPeels
Discover the new generation of Medical MicroPeels developed specifically to treat:
● Prematurely Aged Skin
● Acne
● Hyperpigmentation
● Scarring
● Uneven Skin Tone
The Medical Grade is a three-step process that utilizes the revitalizing qualities of a glycolic acid chemical peel to improve the overall appearance and health of the skin. During the procedure, the top layer of clogged pores is removed, dead skin cells are removed and a mild chemical peel is applied to the skin to help reduce the appearance of fine lines, wrinkles, and acne-related conditions.
This procedure takes 45 minutes to perform and requires no downtime. The results of this procedure are noticeable right away in many patients. For maximum results, we recommend seeking treatment with a series of peels to help sustain the health and appearance of the skin.
After the peel is performed in our office, patients should use a medical-grade line of home products to maintain the youthful results in between treatments. These products can also be used without having a MicroPeel, but results will be slower and less dramatic.
MicroPeel Plus®
The MicroPeel Plus uses salicylic acid to improve the health and appearance of the skin by targeting dark spots, enlarged pores, and acne scars. This procedure helps shed dead skin cells on the surface of the skin, stimulating the production of new skin cells underneath. The MicroPeel Plus procedure takes 30 minutes to perform in our office, with results visible immediately after treatment.
This procedure is effective for all skin types, although the results of the procedure may vary depending on the individual condition of each patient's skin. Most patients notice a significant improvement in the appearance of acne scars and environmental damage on the skin.
Most patients achieve their desired results from the MicroPeel Plus procedure after a series of six treatments spaced four to six weeks apart. After the peel is performed in our office, patients should use a Medical Grade line of home care products to maintain the youthful results in between treatments.
Micro-Infusion Peel
Micro-Infusion Peel Therapy is a multi-level skin resurfacing system. The vacuum action wand stimulates blood flow, cleans and tightens pores while encouraging collagen formation which firms and tones the skin. The Epi-infusion system feeds the skin with specific, goal-oriented, rejuvenating solutions. Can be used to correct:
● Fine Lines and Wrinkles
● Hyperpigmentation
● Uneven Skin Tone
● Acne
● Photo Damage
● Scarring…and so much more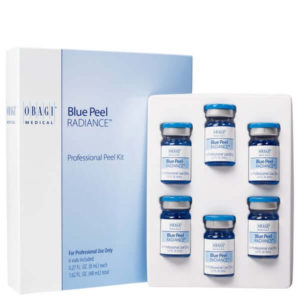 Obagi® Blue Peel®
Obagi® Blue Peel RADIANCE® and Original Blue Peel® reveal clearer, younger-looking skin one layer at a time.
Blue Peel RADIANCE® is a superficial peel with salicylic acid that provides tighter, smoother, brighter-looking skin after just one peel. Original Blue Peel is a medium-depth chemical peel that dramatically improves the complexion.
Skin Care Consultations
Kathy is an expert in the medical-grade skin care lines carried by our office. These lines include Obagi®, SkinCeuticals®, and Revision Skincare®. A custom treatment plan can be tailored to your unique skin concerns and aesthetic goals.